Profiles of Long Shots
written by Conrad K. Crease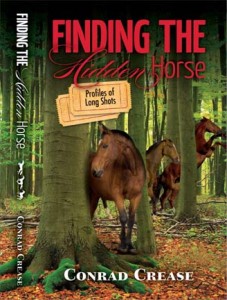 My father has always had a passion for the horses at that track. He has recently written a book that offers advice on how to find long shot winners in thoroughbred horse races.
In 1989, Dad had the lone winning ticket in the superfecta, a bet that requires the bettor to pick the first four finishers in order in a race, turning a $30 investment into a $15,000 payoff.
According to the Dad, his win was not based on luck, but his tested theory of "finding the hidden horse."
Dad contends that there are "tells" in pre-race workouts and past performances that can predict a current top performance by an otherwise overlooked horse.
Finding the Hidden Horse seeks to prove that anyone can learn to recognize these variables that are too often overlooked by the unsophisticated bettor.
Finding the Hidden Horse endeavors to help horse bettors identify probable long shot winner candidates.
In his book, Dad claims that betting favorites historically lose two out of three races.
The book offers over 60 examples to support his theory and strives to offer insider tips like why the last race of the card produces a high percentage of long shot winners, how to identify "false favorites" and more.
Finding the Hidden Horse seeks to deliver something different from the current horse race handicapping books that tend to concentrate on favorites and traditional forms of betting.
My Father claims that in the 2010 Triple Crown races, his hidden horse system predicted the first four finishers in the Kentucky Derby and the Preakness, as well as the winner of the Belmont Stakes at odds of 13-1.
You can purchase this book at amazon.com, also at rmphandicappinggiant.com