Friedrich: A Warrior for All Seasons
A biography on Baron Friedrich Kress von Kressenstein
written by Conrad K. Crease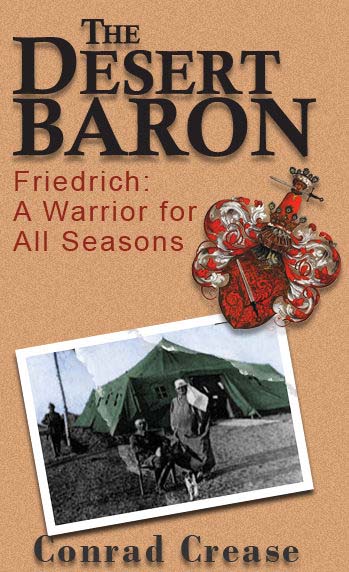 The Desert Baron is the culmination of a lifetime of detective work to confirm the oral history of my Fathers'  family as related to him by his father when the author was fourteen. What began as a journey to discover his roots, became a mission to share with the world the biography of one remarkable man who he believes to be one of his ancestors. The book is a fortuitous accident and a labor of love, notwithstanding that it took four and a half years to research and write.
The book is available for purchase at amazon.com.
Synopsis:
German military officers are often described in terms of their brilliant tactics, but rarely portrayed as humanitarians. In Conrad Kenneth Crease's The Desert Baron: Friedrich: A Warrior for All Seasons, readers are introduced to a man whose Teutonic ancestry and inherent compassion brought honor and respect to himself and his country. Baron Friedrich Kress von Kressenstein's stellar leadership of the Turks in the Mesopotamian Theater led to dramatic disorder of their British enemies. His role in the escape of the German ships Goeben and Breslau makes for a fascinating read, as do his heroic efforts to save the Armenian population from Turkish genocide. In 1923, as the Chief of Arms in the Ministry of Defense, von Kress was instrumental in quelling the Beer Hall Putsch, Hitler's first major attempt to take control. The author, a von Kress family descendant, delivers a fascinating and fast-moving story for history buffs, as well as readers who appreciate a mesmerizing biography.